Academic Programs/Courses & Credits
Kumon Leysin Academy of Switzerland (KLAS) is a three-year high school (10th through 12th grades) made up of approximately 45 students per grade. There are 27 full-time teachers who assist students in academics and dormitory life. The school year begins in July and ends in May and there are five terms per year.
Our goal is to give each student the best possible foundation for academic success in preparation for university studies. While meeting the requirements of the Japanese Minisrty of Education, Culture, Sports, Science and Technology, we have a program that allows students to develop further skills in English and in French while continuing to develop in their mother tongue, Japanese. Furthermore, there is a wide choice of elective courses and a selection of Advanced Program courses available to meet students' needs when considering their future paths.
In the tenth grade, students follow the same program and take the same classes. For the eleventh and twelfth grades, students apply to study on one of two programs: the Main Bilingual Program (MBP) or the Advanced English Program (AEP). Both programs offer a wide selection of English classes and elective courses in English or in Japanese. However, as the name suggests, AEP is designed for those who wish to challenge themselves by taking more classes in English, many of them content classes, whether they wish to go on to Japanese or non-Japanese universities.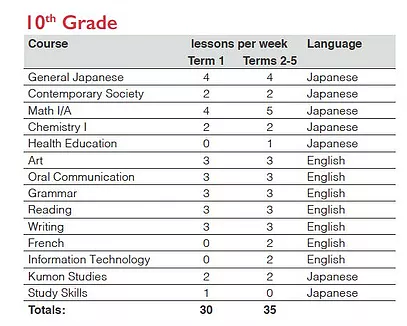 Term 1 in the 12th Grade
12th grade students have the choice of doing Summer Abroad Program (SAP) or the Summer in Leysin Program (SIL) in Term 1. Through the SAP students take classes at a variety of different universities in the USA or the UK. 12th grade students not doing SAP will take the on-campus intensive English program, SIL. This program consists of one ESL class, one class introducing a major European language and four content classes, all taught in English. The content classes consist of mixed groups of KLAS students and Canadian students from the exchange program, as well as a few visiting Japanese students who are here for Term 1.